When the Wind Blows
Reviewed, Stamped "APPROVED" and Endorsed by America's one-and-only Pete Seeger!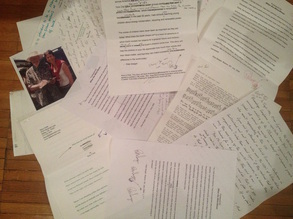 "I envision children and their reading companions relaxing as they read When the Wind Blows, taking refuge in the images of a breezy, summer day on the shore, and pondering a world where Earth's clean energy is harnessed."

- Pete Seeger June, 2009

---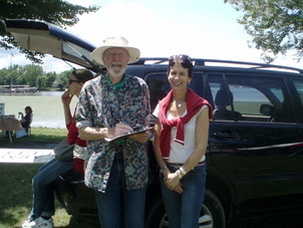 Pete Seeger wrote so many of the songs that I loved to sing as a kid. Pete used music to share big stories about love and peace and change.

I met Pete after mailing him an early draft of When the Wind Blows. Pete said that he hoped WIND would be published, so that more people would understand how easy it is to make electricity without harming the air we breathe, the water we drink and the land we love.

Above is a photo of my collection of letters from Pete and also a picture of the summer day I met Pete near his home in Beacon, NY. I'm so grateful to Pete for his encouragement over the years!

---
Pete believed that that towns and cities everywhere would one day be powered by clean electricity. Below are some of the towns where it's already happening!
To learn more about wind power works, click this
#WindWorks
link.
Sing "This Land is Your Land" with Pete Seeger, Tao & Bruce Springsteen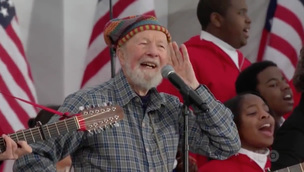 Pete is well-known for singing "This Land is Your Land," an all-American ballad, written by Pete's friend, Woody Guthrie. In this January 2013 video, Pete and his grandson, Tao, and Bruce Springsteen join hundreds of thousands of people at the Lincoln Memorial to sing the song together. Click the button below to watch the video and sing along.
---
#WindWorks by protecting our air & water! @Breeze_Energy @100isNow