When the Wind Blows
Here's how #WindWorks to Make Clean Electricity
You've come to the right place to learn more about wind-powered electricity. Below, Dr. J, from Stanford University explains that renewable energy made from the wind is a lot like the renewable energy made by kids! Be sure to read clean energy reporter, Tommy Time's interview with Dr. J, aka "Magic Man."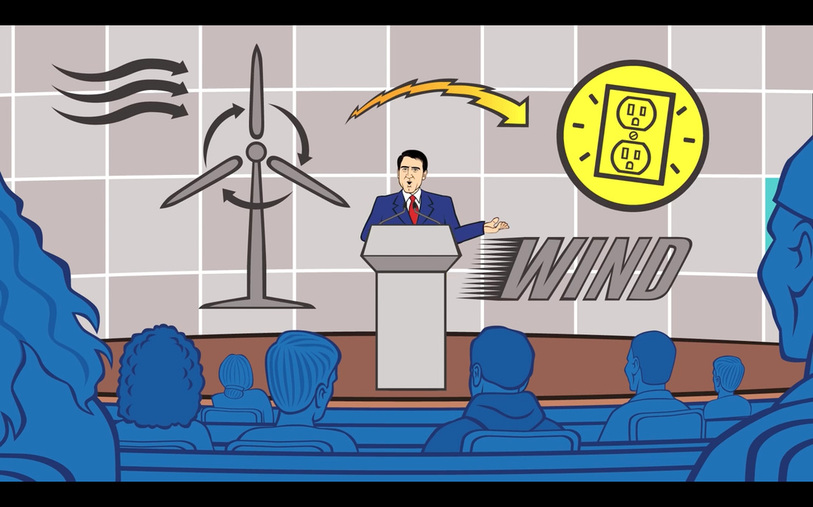 Dr J "Magic Man" explains that wind energy can power our communities. Image courtesy: The Solutions Project's #TommyTime campaign at 100.org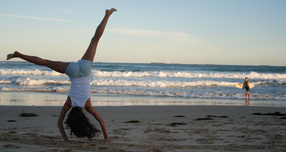 Dr. J says that kids are the world's fastest growing source of renewable power. Why? Because kids make their own energy doing what they do best: cartwheeling - sailing - surfing - running - jumping - pitching - dunking - skate boarding - climbing - drumming - swimming and sliding.
---

Windmills make renewable power too by doing what they do best: spinning - twirling - whirling and swirling! When the wind blows, it pushes the blades of a windmill 'round and 'round, which turns a rotor, which spins a shaft that turns the wheels of a gearbox. The gears increase the speed of the shaft, which, in turn, powers the generator. The generator is made of large magnets and copper wire and when they spin together, they create a magnetic field that creates electricity. The electricity flows down the windmill tower and through transmission lines, where it travels to towns and cities everywhere.
---
Below, Tommy, the clean energy sleuthing, skate-boarding reporter, asks Dr. J about his "magic map" that leads to some awesome clean energy loot!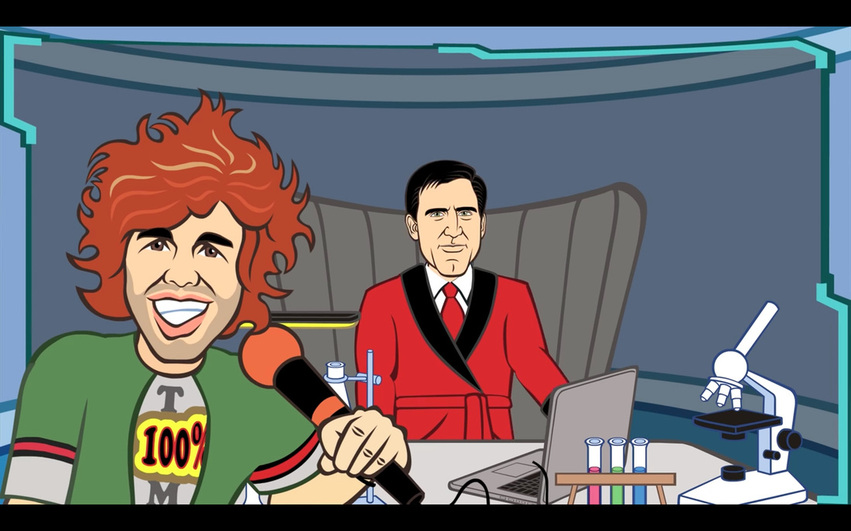 #TommyTime interviews Dr. J about his "50 State Plan" available at www.TheSolutionsProject.org Image Courtesy: 100.org
EXCLUSIVE REPORT: Tommy interviews Dr. J ("Magic Man")
Tommy: Welcome, America - I'm here at an undisclosed location with Dr. J, who recently appeared on
Late Night.
Dr. J, thank you for allowing me into your 100% renewable energy-powered home. Viewers want to know about your work to change the way that energy is made and used. Let's begin with the
interactive, online map
that has business bros everywhere talking about "a revolution."
Dr. J - What's it all about?
Dr. J
: The map is called the
50 State Plan
. It contains the GPS coordinates to most all of the wind-rich territories that many people have never heard of. There's other intel too, including precise data on the location of sun-rich, wave-rich and tidal-rich regions of the U.S. Many of these places haven't been explored, but at each location, clean electricity can be produced. But, you have to follow the map.
Tommy:
Aloha!
The wind, the waves, the tides and the sun
-
Bbbrrighteous, Dr. J!
These sources of clean energy...they're
all like, everywhere! Sounds like a perfect day at the beach to me, Dr. J!
Dr. J
: It does, Tommy. Let's start with the wind. Your viewers will be interested to know that there are 30 states located by an ocean or lake. These include Northeast states, Mid-Atlantic states, Gulf Coast states, Pacific states, Great Lake states and Alaska and Hawaii. Each one can produce electricity with offshore windmills and a lot of them can make electricity with onshore windmills too. On
my 50 State Plan
, just click on any one of these states to follow the path to a clean energy future.
And there are 20 states where onshore windmills can produce electricity. These include the Breadbasket, Plains and Mountain states. Click on any one of
these states
and you'll discover how much clean power they can make.
Tommy: Thanks, Dr. J!
Could we click on a state now to show our viewers how it works?
Dr. J
: How about Texas? Here, I've highlighted it below:
Dr. J: If you look at the offshore and onshore wind icons on the map, you see that
64% of all of the electricity required by Texans can be produced with
just wind power
. I like to think of it as a
Wind Rush.
Tommy: Whoa, Dr. J - I'm feeling a wicked wind rush just thinking about that number!
Dr. J: Let's break it down, Tommy. N
early 14% (or 1/7) of the electricity Texas needs each day can be made with offshore windmills.
Tommy: Right, Dr. J. Right...
I'm with you, man...
Dr. J
: And, a
whopping 50% (or half) of the electricity Texas counts on could be made with onshore windmills.
Tommy: Oh, yea, now I get it - offshore and onshore wind combined! Let me write this out for our viewers!
14% offshore + 50% onshore = 64% wind-powered electricity
Dr. J: You got it.
Tommy:
So, Texas can make 64% (or just over two-thirds) of all the electricity they need with the wind!
Dr. J: Yes. And Texas can use that clean electricity to power most everything by converting to electric cars, electric trucks and electric heating and cooling.
Tommy: Let's make a list of all the things that can be powered by wind power:
Dr. J
: Let's see...we have
1) houses, schools, businesses and factories...
2) electric cars, buses, trains and trucks...
3) adventure parks...
4) national parks...
5) baseball parks...
6) amusement parks...
7) really...any kind of park!
Tommy: Awesome! As soon as we wrap up here, Dr. J, how 'bout you and I bounce on over to the local skateboard park?
Dr. J: Thanks, Tommy - but I have to get back to my research. I'm working on a renewable energy plan for the whole world.
Tommy:
Way out, Dr. J.
So many of the things we need every day can be powered by clean energy. Doesn't it make you wonder why we're not already doing it everywhere?
Dr. J: That's exactly what I wonder about. The wind, waves, tides and sun make clean electricity, so our air is clearer, our water is cleaner and our land is greener.
Tommy: We're all here to help Dr. J - right viewers?
Dr. J: Great. I need you to
invite all of your friends to stay c
onnected and tune in for your clean energy reports. I want them to know how easy it is to make clean electricity and you're just the guy to make that happen! I'll see you in class tomorrow, right, Tommy?
Tommy: Yes Sir, Dr. J. I'll be there! Wouldn't miss it for anything...not even the skate park!
You can be a Clean Energy Sleuth just like Tommy!
Dive in below and share the links you like on Twitter at #WindWorks
One rotation of a #wind turbine powers over 270 smoothies! #WindWorks @Breeze_Energy